Spermidine Supplement, NR, and NMN. Also sold on Amazon, Walmart, and other Vitamin Stores.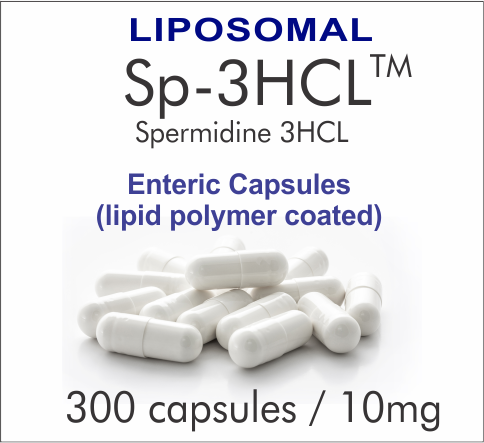 SP-3HCL 300 ENTERIC (SPERMIDINE): SPERMIDINE SUPPLEMENT, ULTRA-PURE PHARMACEUTICAL GRADE 10MG, 10-MONTH SUPPLY, LIPOSOMAL CAPSULES.
ULTRAHEALTH NMN – SCORE 6 OUT OF 6
Absorption / Effectiveness Criteria
Spermidine is a naturally occurring polyamine compound that is found in all living cells. It is a crucial molecule involved in various biological processes and has gained attention for its potential health benefits. Here are some key points about spermidine:
Role in cellular processes: Spermidine plays a vital role in cell growth, proliferation, differentiation, and apoptosis (programmed cell death). It is involved in DNA stabilization, gene expression regulation, protein synthesis, and maintaining the structure and stability of cell membranes.
Antioxidant properties: Spermidine acts as an antioxidant by reducing oxidative stress and combating reactive oxygen species (ROS) in cells. It helps to protect cells from damage caused by free radicals and may contribute to the overall health of cells and tissues.
Autophagy induction: One of the most notable effects of spermidine is its ability to induce autophagy, a cellular process responsible for the removal of damaged proteins and organelles. Autophagy helps maintain cellular homeostasis, promote longevity, and protect against age-related diseases.
Health benefits: Research suggests that spermidine may have various health benefits. Studies in animals have shown that spermidine supplementation can extend lifespan, improve cardiovascular health, enhance memory and cognitive function, and protect against neurodegenerative diseases such as Alzheimer's and Parkinson's. However, further research is needed to fully understand the effects of spermidine in humans.
Food sources: Spermidine is naturally present in various foods, including aged cheese, soybeans, mushrooms, whole grains, legumes, green peas, broccoli, and certain fruits like grapefruit and oranges. The concentration of spermidine in foods can vary, and the levels may decrease with food processing and storage.
Supplementation: Spermidine supplements are available in the market, and some individuals may choose to take them to increase their intake. However, it is important to note that the long-term effects and optimal dosage of spermidine supplementation in humans are still being studied. If considering supplementation, it is recommended to consult with a healthcare professional.
It's worth mentioning that while spermidine has shown promise in various research studies, it is still an area of ongoing scientific investigation, and more studies are needed to establish its full range of effects and potential therapeutic applications in humans.